| | |
| --- | --- |
| Date: | 2008-07-22 11:49 |
| Subject: | Welding class. |
| | Public |
| Mood: | Quoth the welder raven: FCAW! |
Day 1 - Just as with the machining class, the first day is entirely safety and book learning. We saw some tools we'll use later. Welding rods, dark visors, a slag chipping hammer for when we do
SMAW (stick)
and
FCAW (wire)
. I also learned that we would, in fact, be doing MIG welding
and
we'll be learning to use a plasma cutter! ("The plasma cutter cuts anything that's conductive. It'll take your finger right off.")
We got a homework assignment, too. We had to get a sheet of standard writing paper and make sideways U's/horseshoes, one flowing smoothly into the next, all the way down a full line, from right to left. Do this for 25 lines. This is practice to get used to the feel of how we'd be using the oxy torch the next day. I screwed this up by practicing with a sheet of yellow legal paper, which is narrow ruled. It turns out the weld bead needs to be about 1/2" wide, and narrow ruled paper is considerably thinner than that. I taught my muscle memory to make a weld bead that's much too skinny.
Day 2 - Learning to weld with
oxy/actylene
. Man, did I have a hard time with this. One big problem is the previously mentioned practice sheet which set me up all wrong. I was making weld beads that were half of the correct width all class. And I was moving the torch around much too fast. Another big problem is the dark visor, which combined with my less than stellar eyesight makes it tough to see the outlines of the plate we were welding on, even under the searing, cataract causing, ultra-violet light of the welding torch.
It really is interesting melting metal this way. Try and imagine that you're in Antarctica, and it's -30. You're trying to melt the edge of two ice sheets together with a hair dryer. Except imagine the hair dryer is some little joke hair dryer, about 3 inches long. And the hot air coming out is ultra-concentrated into just the first 1/4" beyond the tip. You can only melt a tiny little puddle about the size of the head of a nail. And unless you play the dryer over the sheet very precisely and smoothly, the tiny puddle re-freezes almost instantly. But on the other hand, if you let the hot tip linger anywhere, you'll blow a hole right through the sheet. Your job is to make fine little arcs back and fourth along the seam at just the right speed and width to make a nice deep pool of liquid... but not so deep as to melt all the way through and hole the sheet. On top of all that, now imagine that in your left hand you've got a long, skinny icicle that you're constantly pushing into the liquid pool to add extra bulk to the joint. And did I mention you're doing all this in heavy, stiff leather gloves? And you can barely see anything because of the extra dark sunglasses you're wearing? That's what oxy welding is like...
Another thing that sucks about the dark visor is, your workpiece gets beyond red all the way to orange and white hot. Which is really cool. But with the visor on, you can't see it. If you get your torch shut off quickly enough and your visor up fast enough after you finish a bead, you can still see some of the cherry red glow as it fades out. It's no wonder to me that a lot of people accidentally pick up a red-hot piece of metal while welding. The damn visor is so dark, and your gloves are so thick, that all the normal sensory cues that scream "HOT!" are completely gone. You literally can not see the difference between a red-hot piece of metal and a room temperature one with the visor on.
Tomorrow hopefully we'll do some SMAW and/or FCAW and I can stop failing at welding.
Day 3 - More oxy. We started off class just reviewing what we did last time. Do a bead with with both hands on the torch, do a bead with only one hand on the torch, do a bead while adding rod. Once we did that, it was time to move on to actually trying to join two plates. The prof demonstrated how to set up the 3x5 plates a rod's width apart, and then make the weld. Then we tried it. Three times, in fact, joining four plates together. Once we thought we had it, we cranked the joined plates into a vice and used a hammer to bend them over more than 90 degrees, to make sure the weld didn't suck. My first attempt at the weld sucked, partly breaking when I hammered it over. My second and third attempts were better, however, and held.
Finally, we learned to do a T-weld, where instead of aligning the plates edge to edge, you put one flat and one upright. This was very challenging. Even tacking the upright plate was hard because the bottom plate I was welding onto was warped and distorted from earlier welds. It was particularly hard to form a good puddle along the line where the two pieces joined - the metal just doesn't want to melt there. I also had a hard time holding the torch at the correct angle. With flat welds, I can throw the gas hoses over my shoulder and most of the weight is off my wrist. But with the T weld, that trick forces the torch into an angle that just doesn't work.
Anyway, I'm definitly sucking less. In addition to my previously noted problems, there was one more problem I had that I didn't understand until today. Basically, I was putting too much acetylene in the flame, leading to a cooler flame that doesn't melt the metal as well, and also causing slag to form on the pool. (My new rule is, if you see any slag on the pool at all, you're running oxy poor.) This meant that I was making a very shallow pool. Which explains why my welds weren't visible on the opposite side of the plate as they should be. And why melting rod into the pool was so consistently difficult.
In retrospect, I can see that I was scared of a correct "neutral flame" for a couple of reasons. First, the sound. The oxygen content makes a neutral flame whoosh or roar slightly, which I thought was a bad thing. So I'd back off the oxygen until it went silent. Which was too far. Also, a neutral flame seems to cause a slight but steady stream of sparks on the surface of the metal, which I also thought was bad. As it turns out, as long as you keep these things small and under control, they actually enhance your ability to weld because your torch flame is hotter. And so you can maintain a larger puddle more easily. (Though it is, of course, a fine line between enough heat and too much. Too much and you start blowing holes through the material...)
Oh yeah. The instructor (hereafter referred to by his name, Sid) let us use his anvil and hammer to straighten out our plates between welds. Damn, that's fun. If there was ever a dead giveaway for how much repressed anger I have, watching me smash and whack plates against a 150 lb anvil at a rate of about two blows per second for several seconds running is surely it. WHANG-TING-WHAM-DING-TANG-SPANG-TING-WHA
M-DING! (stops to look at plate briefly) SPANG-WHANG-TING-DING! ;]
Sadily I wasn't allowed to take home my finished welded piece. It's a glorious mess, blackened and warped by the heat. Maybe we'll be cutting them up with the plasma cutter on Friday and I can bring the pieces home and get pictures then?
Tomorrow we do electrical welding. I think Sid said SMAW, MIG and one other kind. I guess that means Friday we'll be doing plasma cutting? That squares with why we have to wear a belt on Friday - so Sid can yank us out of the cutter's way if we doing something stupid.
Day 4 -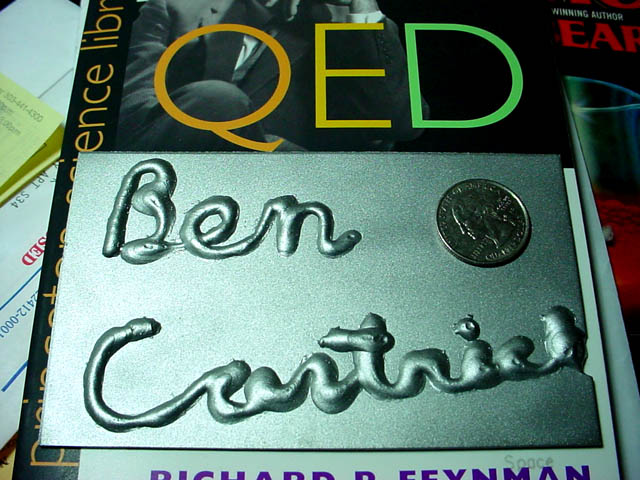 We made this in class today. We used the MIG welder to lay down a bead of weld on this 3x5" piece of steel plate, and after we had written our names, we sandblasted all the slag and burned metal off the plate. MIG is a dream compared to oxy. It's way faster (look how fat my beads are) and easier. You just press the button and push/drag the tip. If oxy is like trying to melt two pieces of ice together with a hair dryer, then MIG is like placing them together and squeezing epoxy into the joint.
We also did arc welding with a clamp and stick. Which is really weird. People often talk about "striking the arc", which is how you establish the electrical current between the stick and the workpiece. That's weird because you have to smack the workpiece harder than I imagined. Stick welding is also weird because the liquid metal from the rod sputters off the tip of the rod, a short distance through the air, and thence onto the workpiece. So it's much harder to control and direct. I can't imagine how much practice it must take to be able to get a good, consistent bead with this technique...
Also got to briefly try aluminium spoolgun welding, but that was so quick I didn't have time to really get a feel for it.
I'm still having trouble seeing what I'm working on. There are two big things that are making my life hard. One, the angle I hold my head at seems to perfectly allow the overhead flourescent lights to shine into the inside of my mask, causing a nasty reflection that makes it hard to see through the glass. Second, my breath condenses on the glass and fogs it. I wanted to turn my helmet darkness down to 9 (the masks are set to 10) but I was afraid Sid wouldn't let me so I just toughed it out. And ran off the edges of the workpiece several times. :P
Tomorrow we're plasma cutting. Leather belts and leather boots all around. It's gonna be fun...
Day 5 -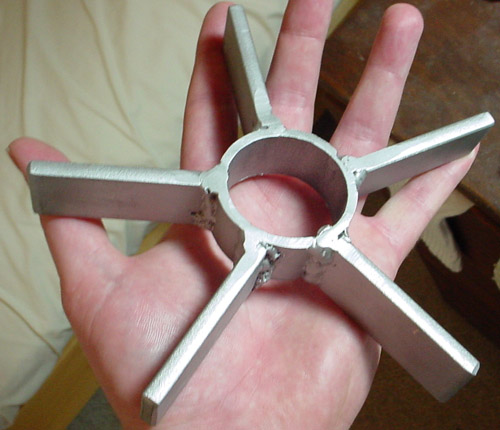 A trivet is a piece of metal you put in a fire, that you can rest a pot on, so the pot won't smother the flames out. It can also be used like a hot-plate to prevent a pot from burning the surface of a table. That's what we made in welding class today. Sid had all the pieces made, we just had to grind them on the grinding wheel to make a bit of a bevel, and then weld them together. I didn't get one of the angles correct, but overall I'm pretty pleased with it. I made two welds I consider good, two decent, and only one that I think was poor. The finished piece passes the drop test no problem.
We also got to try
TIG welding
today. Man, that is smoooooth. I can see why it's the method of choice for aluminium and other difficult to weld metals. Pity the setup is so expensive.
Then we used an oxy cutting torch to cut up our workpieces from Tuesday and Wednesday. It's very interesting. Like oxy welding, it's more of a melting process than anything. You make a little pool, and then blast it with pure oxygen. It holes right through and you can push the liquid edge along. Kind of like melting through a sheet of frozen butter with a soldering iron.
And then we got to use the plasma cutter! Sid is extremely nervous about this, and given his experience I'm guessing there's good reason. Before you can start cutting, he gets a good tight grip on the back of your belt, to yank you away in a blink if you do something stupid. I've nicknamed the plasma cutter "the dragon" because the thing shoots a quantity of sparks far in excess of any other tool in the shop. One thing I didn't expect about it is that it's just as sensitive to tip distance as the rest of the electrical welding tools. Get more than a little bit off the plate, your jet goes out, and you stop cutting. While the jet is there, though, that thing rips. It's almost knife-like in the straight edges it leaves on the sides of the cut. No "melting" here.
It's been a hell of a class. I've learned a tremendous amount, and had a hell of a lot of fun doing it. If you have ever wanted to learn to weld or work metal, I can't recommend this class and the machine shop class highly enough.